Features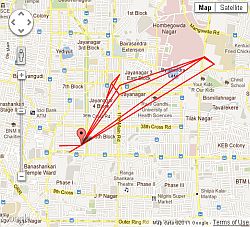 "Cell Tracker" application can track any Android phone which has the "Cell Tracker" app installed in it. You can track where your children are by tracking their cell or keep a check on your spouse or if you simply want to track where all you have been through in last few days all you need to do is install this app. No need to turn on the GPS. This application sends location info once every 30 minutes through GPRS/Wi-Fi and hence the impact on battery is minimal.
Track your Cell
Download
Simple 'Cell Tracker' using Device Id: 'Download'.
Click here to download the new 'Cell Tracker' with Username/Pin. The new version makes it easier to login to website by asking you username and pin instead of device Id. Try it now.