Top SMS Apps in Android Phones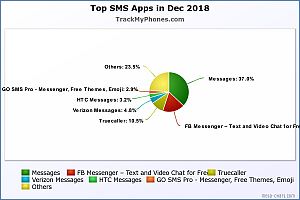 For the reports TrackMyPhones.com has, below are the list of top SMS applications as on December 2018.
With subsequent hacking of Google Plus by an app which used SMS to hack Google+ and get all details of users, Google has now made it difficult for other apps to read SMS. Only app which users select as default messaging app can read SMS. These policies will imposed strictly from Jan 2018 by Google Play on app developers.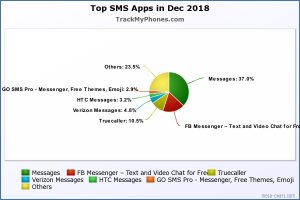 Default Android messaging app still enjoys the most with 37% of the share. Fb Messenger App is distinct second with 18%. And Truecaller is 3rd 10.5%.
Top SMS apps:
1. Messages
2. FB Messenger – Text and Video Chat for Free
3. Truecaller
4. Verizon Messages
5. HTC Messages
6. GO SMS Pro – Messenger, Free Themes, Emoji
7. Others
These stats are collected from samples from TrackMyPhones Apps which users themselves agree to provide.