How to fix "App not installed" Error – Android
While installing some apps you might get the below error: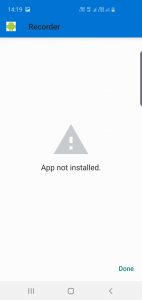 This happens for 2 reasons:
1. If an older version of the app is already installed.
2. If Google Play Security Scan is enabled and it doesn't find the app safe enough to be installed.
Google Play Security Scan normally doesn't allow apps downloaded outside of Google Play to be installed and throw the above error "App not installed." while trying to install it.
Solution:
To fix the problem just uninstall Google Play Security Scan.
Go to Settings -> Security -> Google -> And uncheck "Google Security Scan.
In some devices, it will be under
Settings -> Google -> Security -> Google Play Protect -> Gear icon on top left
Google Pixel (Android 9) settings: